How to Check Electricity Bill Online. if you miss your electricity bill and do not get your bill at home, there is no need to worry, here I'll guide you on how to check your electricity bill online at home online in Pakistan.
Many people did not get their electricity bill at home so they want to check online using old bills reference number
How to check Bills online in Pakistan
Basically, there are 3 methods to check electricity bills online I will explain here one by one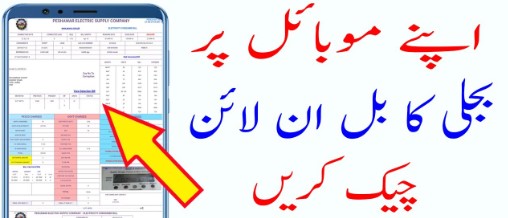 1st method is to check your bill using the official website of any Gepco company Like FESCO, IESCO, GEPCO, or others
Simply search the official website of your bill company and enter the old bill reference number to check your latest bills
2nd Method to check your E bill is using any mobile or banking app online, simply login to an online mobile app and go to the bill payment option,
enter your bill reference number and click next you will get the amount of your bill on the screen
3rd Method is simply you can visit your nearest Wapda office to ask them about your electricity, you show them your old bill and they will print a new bill online for you
How to Pay Electricity Bill online in Pakistan. How to Check Electricity Bill Online

if you want to pay your electricity bill online here are 2 best methods for this…
Pay your bill using Easypaisa or Jazz mobile wallet, you can only pay 3 bills in one day otherwise they will cut 20 rupee charges on 4th bill
Pay your bill online using the Internet or Mobile banking, you can add your bill using the reference number and pay online easily at home
if you have any issue related electricity bill in Pakistan, you can comment us to ask or visit your nearest wapda office.
How to Check Electricity Bill Online