Islamabad Electric Supply Company Iesco Bill is available online. You can check your latest month Iesco Bill Check Online and download a duplicate bill. The original bill in colored copies is sent to your home by iesco company through postal services.
Iesco Bill Check Online is a free website where you can check your iesco duplicate bill easily. Here you can view your current electricity bill (bijli bill), find all information about your previous bill, check your consumer name, and all other history about the bill.

What is the iesco reference number and Customer ID?
A Reference number is usually 14 digits for Domestic users like the common public and this is the only number you have to enter. Entering your reference number will allow you to search through the IESCO website for duplicate bills.
Corporate Users have their 10 Digits customer IDs to get the online iesco bill and duplicate copy. They don't have reference numbers like common domestic users. But they may have reference numbers on their bills.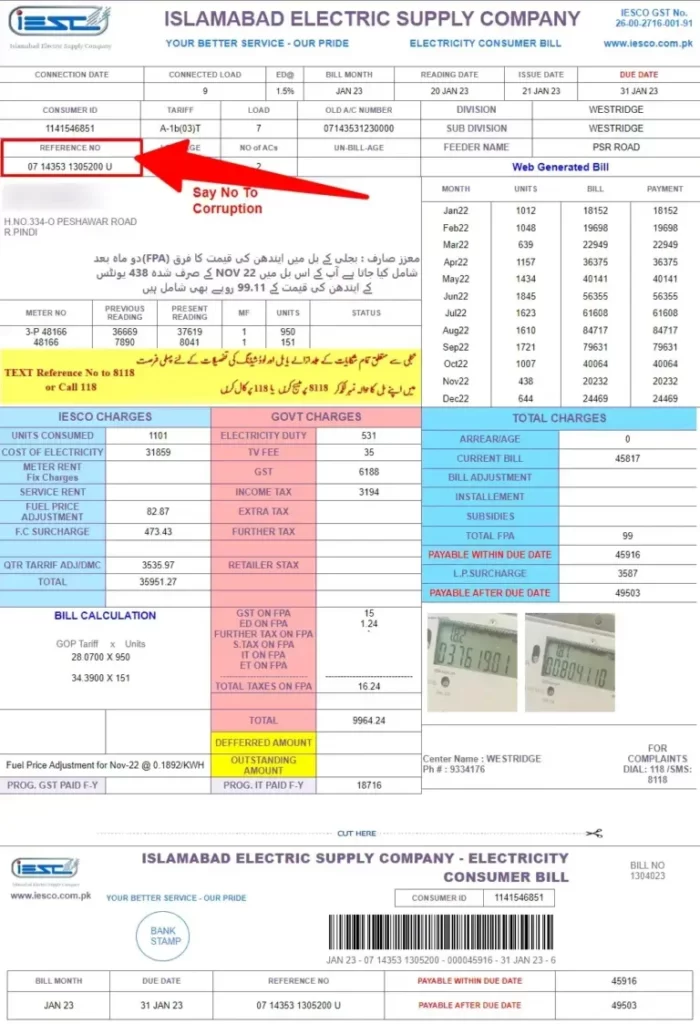 IESCO customers can generate and download their e-bills either it is their first bill or the latest bill for an old meter connection. With most consumers from Islamabad and Rawalpindi, customers from Attok to Jhelum can find their bill information by entering 14 14-digit reference numbers, and also find out registration records, bill status, bill slabs, etc. So enter the reference number above to search your iesco duplicate bill and also check if your previous bill was paid or not in the billing history.
Islamabad Electric Supply Company (IESCO) is a division of WAPDA. It was started in 1998 to handle the responsibilities and functions of the Islamabad area. IESCO supplies electricity to the region from Attock to Jhelum. So if you are an IESCO subscriber, and looking for a duplicate online bill, you are in the right place.
Iesco Bill Check Online
Using our online duplicate bill service, you can not only view your Iesco Bill Check Online but also reprint it and download a duplicate copy as an image or PDF format. You can see one or multiple bills by entering meter reference numbers one by one. rozigo.com is one of the best websites where you can quickly check your electric utility (roshni) bill without any hassle.
You can also get your Iesco Bill Check Online from www iesco com pk but has a better interface and supports all mobile devices so that you can view your bills easily. So, enter your 14-digit reference number above to get your bill for the month of September 2023, or the previous month of August 2023.
Tips to reduce the IESCO bill
Let's take a quick overview of how many units your day-to-day appliances consume and how you can reduce your electricity bill by turning off unnecessary devices. Here is the list of items with estimated units of electricity it consumed if used for 24 hours:
Fan: On average, an 80W fan consumes 4 units of electricity/day.
TV consumes around 3 units a day.
A 24W energy saver uses 1-2 units a day.
Heavier appliances like a one-ton AC consume around 18 units if they run for 24 hours straight.
A refrigerator consumes around 4-6 units, depending on the size and how old your appliance is.
So if you want to reduce your electricity bill amount, you must watch out how many appliances are being used at a time. Here are some tips to reduce your electricity bill amount:
Switch off unnecessary appliances.
Instead of turning on five energy savers, try to manage with four or even less.
Utilize daylight to lighten your rooms instead of electric bulbs where possible.
Don't use ACs during the peak hours.
Use your ACs at 26 degrees.
Keep your rooms ventilated with fresh air to reduce the use of ACs.
Understanding IESCO Bill:
There are numerous parameters in the bill, we have explained some of them below:
Connection Date:
It is the date when you initially registered yourself in Tesco's database for electricity connection.
Reference Number:
This is the important part. This reference number is the basic identification of your Iesco Bill Check Online which is just like your account number. You can pay your Iesco Bill Check Online on behalf of this reference number and get a duplicate copy of your bill by providing this reference number etc.

Dates: Iesco Bill Check Online
In the top right corner of your bill, you can find the reading date, issue date, and due date. These dates represent when the agent noted your meter reading, when the bill was issued and what is the last date to pay your bill.
FPA:
A lot of people ask what is FPA in the electricity bill. FPA stands for Fuel Price Adjustment. This is a system to adjust electricity fees based on fuel price fluctuation. The FPA price belongs to the fuel pricing of rental power companies that generate electricity from Crude Oil etc.
TR Surcharge:
T.R. is a Tariff Rationalization Surcharge. In revised criteria, NEPRA will determine the tariff and the Government notify a uniform tariff for all Distribution Companies. This is the difference between NEPRA and the GOP tariff. If the difference is positive, it will be payable by the GOP as a "Subsidy". However, in case of a negative difference, the Distribution Company will pay GOP as an "Inter DISCO Tariff Rationalization Surcharge ( IDTR SUR )".
FC Surcharge:
FC stands for Financing Cost. Financing Cost Surcharge was initially decided to be 43 paisa per unit, to ensure collection of debt servicing of the Power Holding Private Limited.
Bill Timing:
Depending on your region, you may receive your Iesco Bill Check Online on different dates of the month. However, you can see your bill history to know about your bill reading date, issue date, and due date to get an idea about the bill timing.
IESCO Structure
To keep the electric supply uninterrupted and maintain customer satisfaction, Iesco Bill Check Online is divided into 4 circles, 19 divisions, and 104 subdivisions. Superintending Engineers (SEs) are heads of Circles whereas Divisions are supervised by Executive Engineers (XENs). All Subdivisions are managed by Sub Divisional Officers (SDOs) and each division has a Customer Services Officer which is called a CSO.
The company takes care of the electricity distribution network in the administrative districts of Rawalpindi, Chakwal, Attock, Jhelum, and Federal Capital Islamabad.
Technically, IESCO consists of 108 Grid Stations having a total capacity of 5,224 MVA and distributes the power through 951 Feeders including AJK.
Circles and Divisions:
Islamabad Circle
Islamabad Division 1
Islamabad Division 2
Barakahu Division
Rawalpindi Circle
Rawat Division
City Division
Cantt Division (Rawalpindi)
Satellite Town Division
Westridge Division
Tariqabad Division
Attock Circle
Taxila Division
Pindigheb Division
Attock Division
Jhelum Circle
Jhelum Division 1
Jhelum Division 2
Gujar Khan Division
Chakwal Circle
Chakwal Division
Talagang Division
Dhudial Division
Pind Dadan Khan Division
How to contact IESCO (Complaints & Helpline)
For complaints, you can visit the billing complaint resolution desk at IESCO Head Office located at Street # 40 Sector G-7/4 Islamabad. You can visit that address and submit your complaints. You can also submit your complaint directly to the IESCO CEO by sending your complaint email to [email protected].
Here is the IESCO helpline number: 051-9252937.
If you are looking for the nearest customer services center, you can Iesco Bill Check Online this complete list of customer services centers.
Components of an IESCO Bill:
Consumer Information: Your Iesco Bill Check Online contains your personal details such as name, address, and consumer ID.
Billing Period: The bill specifies the duration for which the charges are calculated.
Meter Reading: The meter reading indicates the amount of electricity consumed during the billing period.
Units Consumed: The total units consumed are mentioned, usually measured in kilowatt-hours (kWh).
Tariff Details: The bill displays the tariff category and rate at which electricity is charged.
Fixed Charges: These are the fixed charges that apply regardless of your energy consumption.
Energy Charges: This section reflects the cost of the units consumed based on the applicable tariff rate.
Taxes and Surcharges: The government or regulatory bodies levied additional taxes and surcharges.
Total Bill Amount: The sum of all the charges, including taxes, surcharges, and outstanding dues (if any)
Reading Your IESCO Bill:
Understand the units: Ensure you are aware of the unit of measurement used (kWh) and how it relates to your energy usage.
Review the meter reading: Verify that the meter reading mentioned on the bill aligns with the reading on your electricity meter.
Check for accuracy: Examine all the charges and calculations to ensure they are accurate.
Understand the tariff: Familiarize yourself with the tariff category you fall under and the corresponding rates.
Note the due date: Pay attention to the due date to avoid late payment charges or disconnection.
Payment Options to Pay Iesco Bill Check Online:
Online Payments: IESCO provides various online platforms where you can pay your bill conveniently using debit/credit cards or online banking.
Bank Payments: You can also visit authorized banks and make your payment over the counter or through automated teller machines (ATMs).
Mobile Wallets: Utilize mobile wallet applications Easypaisa, Jazz Cash, Upaisa, and others to make quick and hassle-free bill payments.
Customer Service Centers: Visit the nearest IESCO customer service center and pay your bill in person.
Post Offices: You can pay your iesco bill at your nearest post office.
Reducing Energy Consumption:
Energy-efficient appliances: Opt for energy-efficient appliances that consume less electricity without compromising performance.
LED Lighting: Replace traditional incandescent bulbs with energy-saving LED lights.
Unplug unused devices: Turn off and unplug appliances and electronics when not in use to eliminate standby power consumption.
Efficient cooling and heating: Set your air conditioner and heater to optimal temperatures and use them judiciously.
Insulation and weatherstripping: Insulate your home and seal gaps to prevent heat loss or gain, reducing the need for excessive cooling or heating.
FAQs:
How to check iesco online bill?
How to calculate the iesco estimate bill?
You can calculate iesco electricity cost of your residential connection by entering consumed units here.
Can I check the bill by meter number?
IESCO subscribers can only Iesco Bill Check Online by a 14-digit reference number, not by meter number.
How to get the previous month bill?
If you did not receive your bill, you can get a duplicate copy of your last Iesco Bill Check Online here.
Keywords:
iesco bill check online 2023
online bill check
iesco online bill check islamabad
iesco bill online check by reference number
iesco bill online check by cnic
electricity bill online check
iesco bill duplicate
iesco bill reference no