Jobs in Fly Jinnah Airline as described in the advertisement. So, Fly Jinnah Careers is a renowned organization that has recently announced multiple job vacancies in various departments across Pakistan.
Fly Jinnah Airline Careers are specifically tailored to candidates who meet the job requirements. female candidates are eligible to apply for the latest Fly Jinnah Airline Jobs. The recruitment process is straightforward and can be found in the job advertisement posted by the organization. You can secure your job in Pakistan in 2023 by completing the process.
If you are passionate about the aviation industry and looking for a Fly Jinnah Careers, this is a great chance to join Fly Jinnah Airline. The job location will be in Pakistan, providing you with an opportunity to work in the dynamic aviation sector of the country. To apply for any of these positions, make sure to meet the specified age and educational requirements.
Table of Contents
Detail of Jobs in Fly Jinnah Airline:-
| | |
| --- | --- |
| Organization | Gender |
| Age Limit | 20 to 35 year |
| Education | Matric To Master |
| Gendar | Female & Male |
| Job Type | Full Time |
| Company | Fly Jinnah Airline |
| Location | Pakistan |
| Job Category | Airline |
More About Fly Jinnah Careers:-
Fly Jinnah Careers, a leading airline organization, has recently announced full-time job opportunities in Pakistan. The age limit for these positions ranges from 20 to 35 years, and candidates with educational qualifications ranging from Matric to a Master's degree are eligible to apply. These job openings are available for both male and female candidates.
Check also: Ehsaas Program
Fly Jinnah Airline is seeking qualified individuals for various positions within their organization. The list of available vacancies includes Chief Pilot, Sales Manager, Coordinator, Team Leader – Cleaning (Aircraft), Cabin Crew (Pakistan), Cabin Supervisor, Call Center Duty Supervisor, and Receptionist.
Fly Jinnah Careers values diversity and welcomes applications from both male and female candidates. This job category falls under the airline industry, offering exciting opportunities for growth and development within the organization.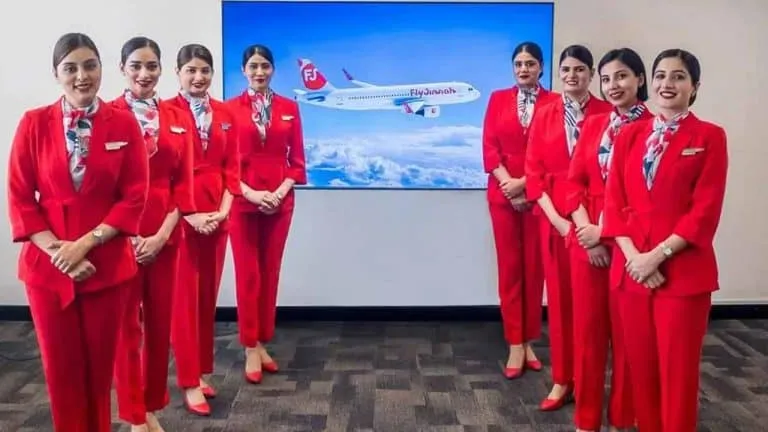 Chief Pilot
Sales Manager
Coordinator
Team Leader – Cleaning (Aircraft)
Cabin Crew (Pakistan)
Cabin Supervisor
Call Center Duty Supervisor
Receptionist
More New Jobs: Ministry of Defence Jobs 2023 Online Apply
Requirements
Minimum Age is 18 years.
Attested SSC (copy of mark Sheet & copy of certificate) / O-Level – Equivalency Certificate Copy attestation
Attested HSC (copy of mark Sheet & copy of certificate) / A-Level – Equivalency Certificate Copy attestation
Valid CNIC & Passport
Fluency in English (written and spoken)
Fluency in other languages is a plus
Minimum Height: 160 cm (Female), 168 cm (Male)
Weight: To be in proportion to Age and Height
Clear skin with no marks or tattoos that would be visible whilst wearing the cabin crew uniform
Medically/ Physically fit to perform Cabin Crew duties
More New Jobs: Meezan Bank Jobs 2023
How to Apply for Jobs in Fly Jinnah Airline:-
Candidates can apply online via the organization's web portal or by sending their documents and CV to the email address provided.
For more information on the Fly Jinnah Airline please visit their website:https://careers.airarabia.com/flyjinnah/search and click here.
Additionally, you can apply for the position by sending your documents along with an application/attested photo via mail.
Application Process
Candidates with a portfolio matching the requirements of Today Fly Jinnah Careers 2023 in Karachi can submit online applications through the official portal of the Airline Company till 03 December.
Official Advertisement:-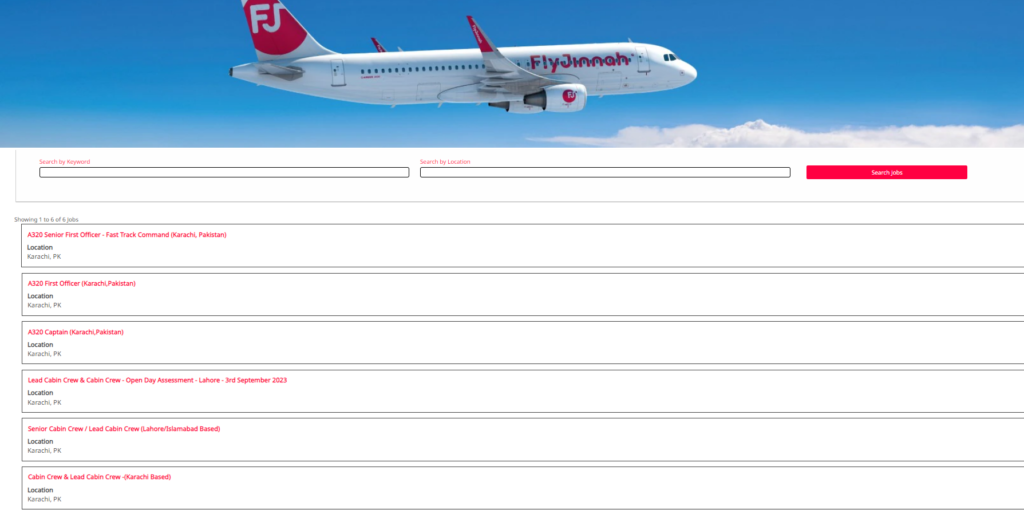 Fly jinnah airline careers pakistan
Fly jinnah airline careers lahore
Fly jinnah airline careers karachi
Fly jinnah airline careers cabin crew salary
Fly jinnah airline careers cabin crew
fly jinnah airline jobs 2023
fly jinnah airline website
fly jinnah careers cabin crew