Our tutors are teachers, professors, adjuncts, PhD students, and industry professionals who are all passionate about their areas of expertise and eager to help students learn.
We help learners of all ages and stages—from kindergarten through college, continuing education, and career. Our tutors provide empowering, encouraging support to help students complete their assignments, improve their grades, and persist in their studies. Every day, thousands of students share positive feedback about their online tutoring experiences.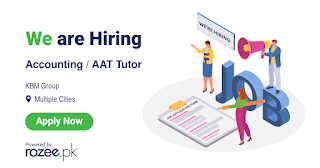 Our online tutoring platform makes connecting with students (and earning extra income!) simple, convenient, and flexible.
Online tutor jobs are opportunities for individuals to teach and assist students in various subjects or skills through online platforms. Here is some information about online tutor jobs:
If you are interested in becoming an Online Tutor jobs, you can explore these platforms to find suitable job opportunities in your preferred subject or area of expertise. Remember to check the specific requirements and qualifications for each job listing and apply accordingly.
Online Tutor jobs
KBM Group is an international group of companies offering a range of services to Pakistan, UK and other European clients in various sectors such as Accountancy, Consultancy, Education, and Training.
Location:
Remote (Work from Home)
Job Type: Full time
Duties/Responsibilities
Design lesson plans, schemes of work, and training resources
Provide outstanding live online lectures to students
Inspire students to succeed and achieve excellent outcomes.
Deliver revision lectures and prepare students for exams.
Conduct on-demand 1-1 support sessions with students.
Provide students with academic and pastoral support to help them achieve their goals.
Take responsibility for the progress and achievement of all students on your course.
Review individual student attendance, progress and achievements.
Review & provide feedback on exam results.
Qualifications
ACCA Part Qualified or Fully Qualified
Teaching, Training, Coaching or Mentoring experience
Skills
Strong communication & presentation skills
Confidence with the ability to motivate & develop others
Job Skills
Interpersonal Skills
Fluent English
Time Management
Active Listener
Communication Skills
Mentoring Teaching
Degree Title
ACCA/AAT Qualified or Part Qualified
Career Level
Experienced Professional
Minimum Experience
2 Years of experience in teaching)
Apply Before:
December 30, 2023
Posting Date:
30 SEP 2023
Online Tutor jobs