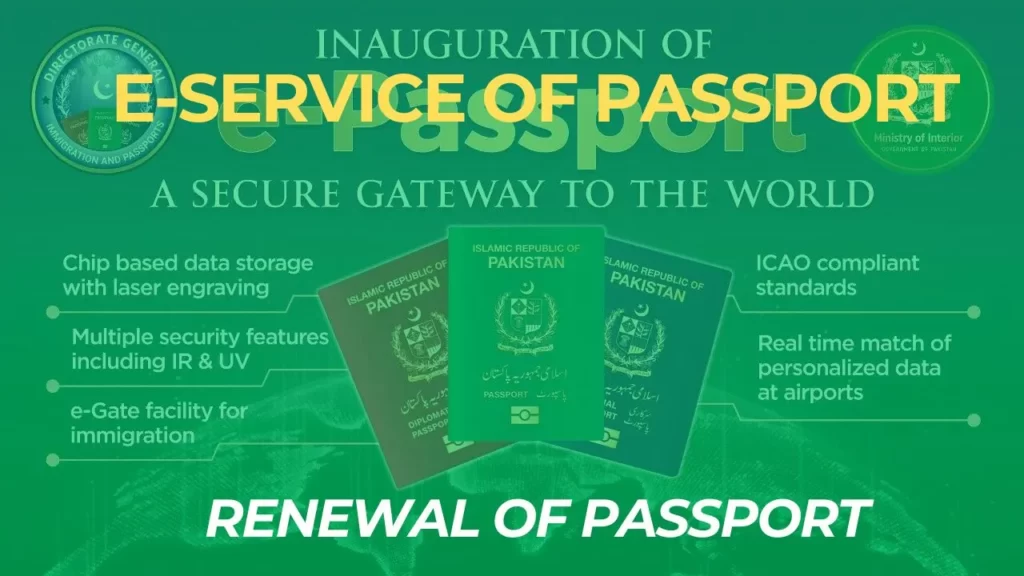 Table of Contents
Renewal of Passport Online Service. e-Services Portal acts as the gateway to online services provided by the Directorate General of Immigration and Passports for Pakistani citizens, both within the country and abroad. It enables individuals to access these services through the convenience of the e-Services Portal.
Detail of Renewal of Passport Online Service:-
Apply for
Service Availability
Renewal
Inland & Overseas
Reprint Damage
Overseas Only
Reprint Lost
Reprint Exhaust
Type "New" for Newly Born
Partial Modification
For newly married female applicants
Important Notice:-
Inland Pakistani applicants can only apply for passport renewal. Temporarily, passports of Inland Pakistani applicants will be delivered to their chosen passport office.
Furthermore, online overseas applicants are notified that all types of renewals, "New" for newborns (up to 2 years old), reprints, damaged passports, lost and expired passports, and modifications (such as name change for female applicants due to marriage or change in profession) are being processed through the Online MRP Web Portal for overseas Pakistanis.
How to Start this Process:-
If you're new here and planning to apply for a machine-readable passport, take a moment to read this advisory.
Requirement of Passport:-
Required supporting documents:
Photograph (up to 5MB) following the Photograph Tutorial.
Fingerprint form filled according to the Fingerprint Tutorial.
Valid Credit Card for online application fee payment.
How to Contact for services if you face any Problems:-
Please reach out to customer support (Contact Us) if you face any issues while finalizing your application.
Renewal of Passport Online Service
Online Application:-
To apply online, click on the Get Started button.
For registration, if you are within Pakistan, you will receive an SMS and email code.
For overseas Pakistanis, all required codes will be sent via email only.
Fo Jobs information Click Here
Users can log in to the Pak-identity system using their registered "Username" and "Password."
Create an application for a machine-readable passport
Provide application details
Include an address for passport delivery
Pay fee with Visa/Master credit/debit card
Note:-
DGI&P doesn't provide refunds for passport applications. Please review the website for detailed information and guidelines before applying.
Processing Time on Online Application:-
Estimated Completion Time
Sr #
Activities
Passport Processing
1.
Register user
2 min
2.
Select application category
1 min
3.
Give passport delivery details
1 min
4.
Pay fee
2 min
5.
Provide personal information
1 min
6.
Provide Address details
2 min
7.
Upload photograph
1 min
8.
Upload supporting documents
1 min
9.
Review and Submit the application
5 min
10.
Review and Submit application
0.5 min
Total estimated time
16.5 min