How to Use ChatGpt on Whatsapp. At this point, ChatGPT has found its way onto almost every device imaginable. From using ChatGPT in Siri to having it on your Apple Watch, the AI chatbot is everywhere. With the release of OpenAI's new GPT-4 language model, interest has only increased. However, for many ChatGPT is still a dream for Whatsapp users. However, that is now finally a reality as you can use the AI bot on Whatsapp without any complicated steps. So without further ado, let's start learning how to use ChatGPT on WhatsApp.
Table of Contents
How to Use ChatGpt on Whatsapp:-
Without wasting any time, let's learn how you can start using ChatGPT on WhatsApp on your iPhone and Android phone. First, we will use a ChatGPT-powered WhatsApp bot called Jinni, which has been integrated into the messaging app. Is that how it works?
On your mobile device, visit the official Ask Jinni website using the link provided. Tap the "Launch WhatsApp" button and your WhatsApp will open automatically. Tap the Open button if it asks for your permission.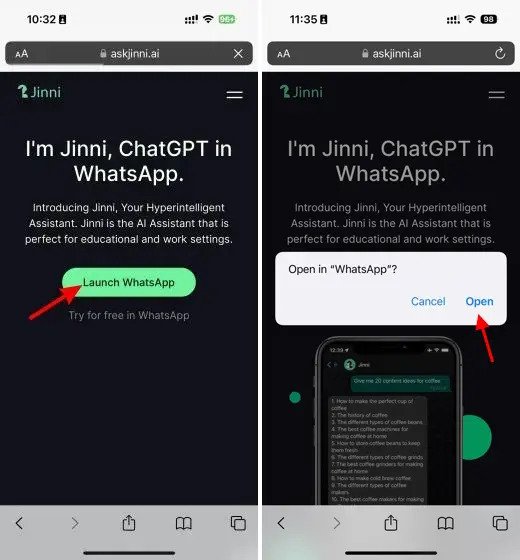 Your Whatsapp will now automatically open on the Jiini chat screen. Just type "Hello" here, and it will respond immediately.
And just like that, now you can talk to Jinni on WhatsApp just like you would on ChatGPT without any problem. Note that she only has 10 free messages before Jinni says that she has no wishes. However, you can purchase a paid subscription for $5.99/month. However, try Jinni and get ChatGPT on your WhatsApp
How to Use ChatGPT on WhatsApp Using Shmooz AI:-
The next service we'll use is Shmooz AI, a website that embeds GPT-3 directly into its bot to act as a mediator. While it doesn't allow people to use its API, you can go ahead and set up Shmooz by following the steps below to use ChatGPT on WhatsApp.
On your mobile device, visit the official Shmooz AI website using the link here. Tap the "Start Shmoozing" button and your WhatsApp will open automatically.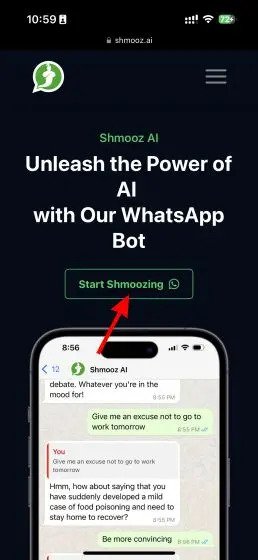 Here, tap on the "Continue Chat" button and you will be taken to the chat screen immediately.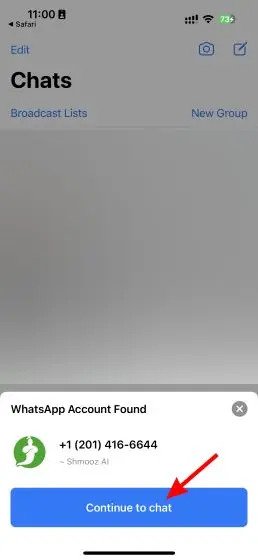 3. A message will be auto-typed in the message box for you. Simply send it, and the bot will respond.
And that's it! You can now talk to Shmooz AI on WhatsApp just like you would with ChatGPT, and it will reply immediately. As before, please note that Shmooz is a paid service with only 5 free messages. Then you need to sign up for a premium tier, which starts at $9.99 per month and provides unlimited access.
Bonus: More ChatGPT WhatsApp Bots:-
Apart from the interesting WhatsApp bots powered by ChatGPT mentioned above, we also found some other great bots that provide access to ChatGPT within the messaging app. However, keep in mind that these bots are in high demand and may go offline or generate slower responses without notice. Some of these bots are:
MobileGPT (Visit): One of the first WhatsApp bots to use GPT-4, MobileGPT is another service that you can use to chat and get answers to all your questions. MobileGPT can even generate images for you, which are pretty awesome.
Visit Whatsapp gpt:-
This ChatGPT bot for WhatsApp can not only answer your questions but also transcribe voice notes to text. The chatbot can even summarize YouTube videos and create images with AI. However, due to the sudden increase in the user base, WhatGPT has been offline for the past few days and is only accepting new registrations for its waiting list.
Online Information:-