Pakistani young looking for careers in avocations departments may find here Air Hostess Jobs 2023 private and government airlines of Pakistan. Air hostess is one of the most reputed and respectable positions among males and females. Rozigo.com provide complete details of air hostess vacancies in all airline operating in Pakistan.
Pakistan International Airlines is hiring exceptional people with Warm Smile, Energetic, Committed, talented, and pleasant personalities as "Cabin Crew (Males / Females)" able to create a pleasant experience for our "Valued Guests* and take up attractive/exciting and rewarding carrier,
پاکستان کی نامور ایئر لائنز باصلاحیت، محنتی، اور خود اعتمادی کے حامل امیدواروں کی منتظر اور تلاش کر رہی ہیں جو تمام تقاضوں کو پورا کرتے ہیں، کیبن کریو اور ایئر ہوسٹس کی نوکریوں کی 2023 کی آسامیوں کے لیے آن لائن درخواست دینے کے لیے دل کی گہرائیوں سے خوش آمدید کہتے ہیں، انتہائی ہنر مند یا قابلیت کی ضرورت نہیں ہے۔ میٹرک اور انٹرمیڈیٹ اسکول سرٹیفکیٹ کی ضرورت ہے ایک پیشگی آرام دہ ماحول کے ساتھ پاکستان کے بہترین ادارے میں شامل ہو سکتے ہیں۔ خواہشمند پاکستانی امیدوار ملک بھر سے کراچی، لاہور، اسلام آباد، پشاور، راولپنڈی، کوئٹہ اور دیگر سے درخواستیں دے سکتے ہیں۔
Air hostess job for female 2023
| | |
| --- | --- |
| Name of Department | Pakistani Airlines – PIA |
| Location | Lahore,Islamabad,Karachi,Peshawar,Multan,Quetta,DG Khan |
| Who Can Apply | Male/Female |
| Age Limit | Upto 25 years (including all age relaxations) |
| Domicile | Punjab/Sindh/KPK/Balochistan/AJK/ |
| Required Qualification | Minimum Graduation |
| Total Position | 40 |
| Salary Range | 30000 – 50000 PKR |
Apply Now: Ehsaas Program 25000 Bisp Online Registration
Eligibility Criteria for Air Hostess Jobs 2023
Qualification: Minimum Graduation from any HEC-recognized Institute.
Skills: Excellent Communication Skills, and ability to work under stress.
Maximum Age: Upto 25 years (including all age relaxations) as of the last date of submission of applications.
Appearance: Good appearance, Elegant, Smart, and Well Groomed. Flight Steward: Minimum Height 5 feet 6 inches.
Air Hostess Height: Minimum Height 5 feet 2 inches.
Languages: Should be fluent in both written and spoken English / Urdu, any other Regional / Foreign language will be considered as an added advantage.
Health: Perfect Eyesight, the user of contact lenses may also apply and the decision will be taken by the PIA Medical Board as per standard rules. However, users of spectacles and candidates with skin Problems need not apply.
Salary Package: Successful candidates will be offered market-based salary and other benefits along with opportunities to fly to different destinations.
Terms of Contract: One (01) year extendable contract based on satisfactory performance and company requirements.
Maximum Age: Upto 25 years (including all age relaxations) as of the last date of submission of applications.
Name of Vacant: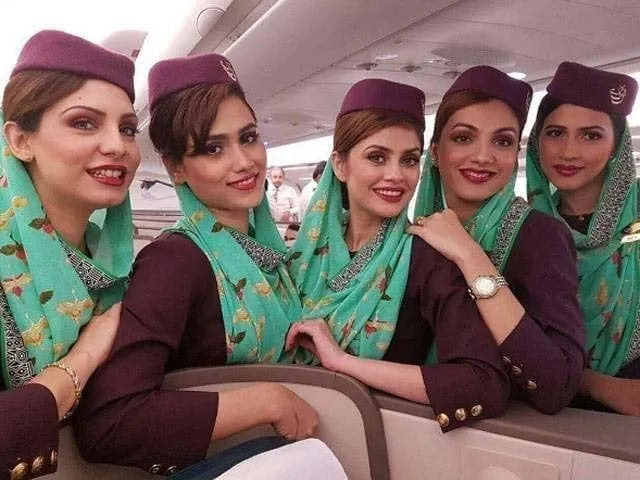 Air Hostess Jobs Duties
Air Hostess Jobs 2023 are one of the most important people in any airline to maintain the airline whose work is to ensure the safety and comfort of passengers and flight attendants. Air hostesses perform many responsibilities from other employees Some of the major duties are listed below
New Jobs Today: Today Teaching Jobs 2023
Well Come to Passenger in Flight
Make sure the comfort and safety of the passenger
Describe the flight rules with passengers
Maintaining Cabin Systems on the aircraft
Preparing flight report
Operating the aircraft equipment and system
Providing medical care and advice
Managing passengers in emergency situation onboard
Checking the safety equipment, aircraft cleanliness, and seat pockets are up to date and that all meals and stock are on board
Informing passengers of the aircraft safety procedures and ensuring that all hand luggage is securely stored away
Checking all passenger seat belts
Making announcements on behalf of the pilot and answering passenger questions during the flight
Serving meals and refreshments to passengers
Ensuring the health and safety of the passengers at all time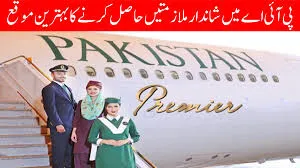 SELECTION PROCEDURE:
Eligible candidates will undergo a computer-based test (CB) by an independent Testing Agency. The test score will be displayed on the candidate's computer screens at the time of termination of the test. Candidates securing 70% or more marks in the CBT will be called for a grooming assessment and a subsequent interview. Candidates finally selected will be required to undergo a thorough medical examination. All provincial/regional quotas and applicable regulations shall be complied with.
Latest Jobs: FPSC Jobs in Pakistan 2023
How to apply for Air Hostess Jobs 2023
Applications are invited on the prescribed form available on the PIA website: https://www.plac.com.pk/corporate/careers
Application processing fee of Rs. 2000/-, will be deposited in below below-mentioned bank account or via bank transfer in favor of PIACI vide Bank Account HBI-CSCPIA-PKR-0048-00179605-03. Proof of the payment must be attached with the Application Form and Transaction Reference Number to be entered in the last column i.e. Section VIll of the Application Form.
Application Form along with photocopies of Matric, Other Qualification Certificates & Experience Letters, Domicile, National Identity Card, 06 Passport size Photographs with white background, must be sent through reputed Courier Services. The application should reach the office of MANAGER RECRUITMENT & PLACEMENT PIA, NEAR PIA TRAINING CENTRE, KARACHI AIRPORT, POSTAL CODE: 75200. Contact No. 021-99043562/ 021-99044295.
Applicant must clearly mention the position applied for on the Application Form and must attach all required documents mentioned in Para (i & iti). In case of an incomplete Application Form or any of the requisite documents are missing, the application will not be considered/entertained.
No by-hand application will be accepted. However, Applications received through email along with all requisite information shall also be accepted, subject to receiving the same as a hard copy.
Candidates found using external influence or giving wrong information, even if the same is revealed will be considered disqualified.
Applications received after the due date will not be considered/entertained vill.
No TA/DA will be admissible for Test and/or Interview.
In case, any educational documents/domicile or any other relevant document is found fake/bogus/tempered at any stage of service, the services will be stand terminated and criminal proceedings will also be initiated as per the law of the land.
Government Servants/employees of autonomous bodies including PIA employees will be required to submit NOC from their current employer while submitting the application.
PIA reserves the right to cancel the partial or whole recruitment process at any stage.
درخواست پروسیسنگ فیس روپے۔ 2000/-، نیچے دیے گئے بینک اکاؤنٹ میں یا بینک ٹرانسفر کے ذریعے جمع کیے جائیں گے۔
ادائیگی کا ثبوت آخری کالم میں درج کرنے کے لیے درخواست فارم اور ٹرانزیکشن ریفرنس نمبر کے ساتھ منسلک ہونا چاہیے۔
درخواست فارم کے ساتھ میٹرک کی فوٹو کاپیاں، دیگر اہلیت کے سرٹیفکیٹس اور تجربہ کے خطوط، ڈومیسائل، قومی شناختی کارڈ، سفید پس منظر والی 06 پاسپورٹ سائز تصاویر، معروف کورئیر سروسز کے ذریعے بھیجی جانی چاہیے۔ درخواست مینیجر ریکروٹمنٹ اینڈ پلیسمنٹ پی آئی اے کے دفتر، نزد پی آئی اے ٹریننگ سینٹر، کراچی ایئرپورٹ، پوسٹل کوڈ: 75200 پر پہنچنی چاہیے۔ رابطہ نمبر 021-99043562/ 021-99044295۔
درخواست دہندہ کو درخواست فارم پر واضح طور پر اس پوزیشن کا ذکر کرنا چاہیے جس کے لیے درخواست کی گئی ہے اور تمام مطلوبہ دستاویزات کو منسلک کرنا چاہیے۔ نامکمل درخواست فارم یا مطلوبہ دستاویزات میں سے کوئی بھی غائب ہونے کی صورت میں، درخواست پر غور نہیں کیا جائے گا۔
The last date for submission of applications is 25* September 2023
For further queries, you may reach us at: [email protected] MANAGER RECRUITMENT & PLACEMENT, NEAR PIA TRAINING CENTRE, KARACHI AIRPORT. 021-99043562/ 021-99044295/ 051-9209909.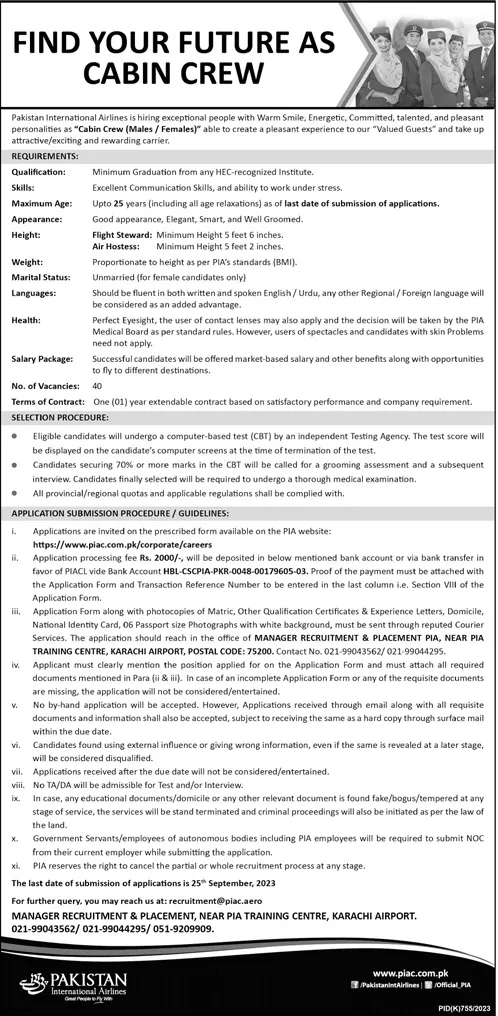 FAQ's:
What is the salary of air hostess in Pakistan?
30,000 to 50,000
Successful candidates will be offered market-based salary and other benefits along with opportunities to fly to different destinations.
Can I apply to be an air hostess?
The minimum age to become an air hostess is generally 25 years to above. The minimum height of the candidate should be 5′ – 5'2". Your body weight should be in proportion to your height. There should not be any visible marks, tattoos, or body piercings.
What is the salary of Airblue cabin crew?
The estimated total pay for a Cabin Crew at Airblue is PKR 50,000 per month. This number represents the median, which is the midpoint of the ranges from our proprietary Total Pay Estimate model and based on salaries collected from our users. The estimated base pay is PKR 50,000 per month.
What is the rank of air hostess?
The hierarchy of Cabin Crew are flight attendants who gets promoted through the ranks- Flight attendant → Senior crew member → Purser → Chief Purser.
How many flights do air hostess take?
Most airlines complete three flights per day with layovers anywhere from 10 to 24 hours long, though longer layovers may extend into a three-day stay. Three-day trip: Three-day trips require flight attendants to complete more than one leg per day. They may experience multiple layovers, or a very lengthy one.
Table of Contents
Keywords:
Air Hostess Jobs 2023
Air hostess jobs 2023 salary
Air hostess jobs 2023 pakistan
Air hostess jobs 2023 for female
Air hostess jobs apply online
air hostess job for female 2023
air hostess job vacancies
Air Hostess jobs in pakistan
air hostess jobs in pakistan 2023 online apply
Air Hostess Jobs 2023
New Air Hostess Jobs 2023
Latest Air Hostess Jobs 2023
Airblue Air Hostess Jobs 2023
Qatar Airline Air Hostess Jobs 2023
New Announced Air Hostess Jobs 2023