The FPSC Jobs in Pakistan 2023-Federal Public Service Commission (FPSC) is a prestigious institution that plays a pivotal role in recruiting talented individuals to serve in various government sectors. This year, FPSC has announced an array of job openings in Islamabad, offering a chance for aspiring candidates to contribute to the nation's progress. Let's explore these opportunities in detail.
The latest FPSC Jobs 2023 have been announced All over Pakistan. Candidates both men and women can apply for this career opportunity. Fpsc has released multiple vacancies in different departments such as Assistant Private Secretary. Interested candidates can apply before the due date
FPSC Jobs in Pakistan 2023
As of September 9, 2023, FPSC Jobs in Pakistan 2023 has advertised several exciting positions in Islamabad, Pakistan. These positions encompass a wide range of fields, ensuring there is something for everyone. Here are the job titles:
Occupational Therapist
Assistant Executive Engineer
National Saving Officer
Research Officer
Planning Officer
Assistant Professor
Deputy Director
Veterinary Officer
Assistant Scientific Adviser
Psychiatrist
Assistant Manager IT
Medical Officer
Civilian Medical Practitioner
General Staff Officer
Chief Cardiac Perfusionist
Assistant Controller of Stores
Inspector and Administrative Officer
Job Requirements
To qualify for these prestigious positions, candidates must meet specific educational requirements. The preferred educational qualifications include:
MS
B.E
M.Sc
Master
Bachelor
MBA
MA
Ensure that you possess the requisite educational background before applying for your desired position.
Benefits of Working with FPSC Jobs in Pakistan 2023
Working with FPSC comes with a myriad of benefits, making it an attractive career choice. Some of the key advantages include:
Apply now: Ehsaas Program 25000 Online Registration
Competitive Salary Packages: FPSC offers competitive salaries, ensuring you are rewarded for your hard work.
Job Security: Government jobs in Pakistan are known for their job security, providing peace of mind.
Opportunities for Growth: FPSC provides opportunities for career advancement and growth.
Pension and Retirement Benefits: You can enjoy pension and retirement benefits after years of service.
Required Documents for Application
To apply for these positions, you will need to submit a set of essential documents. Here's a checklist to ensure you have everything you need:
Updated Resume/CV
Educational Certificates and Transcripts
National Identity Card (CNIC)
Domicile Certificate
Passport-sized Photographs
Make sure all documents are in order and up to date to avoid any application issues.
FPSC Application Closing Date
The closing date for applications for the latest FPSC Jobs in Pakistan 2023 management posts in Islamabad 2023 is set for September 25, 2023, or as per the paper advertisement. Ensure that your application is submitted before the deadline to be considered for these coveted positions.
New Jobs: Latest Jobs in Fly Jinnah Airline 2023
How To Apply:
To apply for FPSC Jobs in Pakistan 2023, follow these simple steps:
Visit the FPSC website (https://www.fpsc.gov.pk/jobs/gr).
Complete the online application form.
Upload your updated Resume/CV.
Attach your educational certificates and transcripts.
Provide a copy of your National Identity Card (CNIC).
Include a domicile certificate.
Attach passport-sized photographs.
Ensure all documents are up to date.
Submit your application before the closing date, September 25, 2023, or as per the paper advertisement.FPSC Jobs in Pakistan 2023
FPSC Jobs 2023 Advertisement: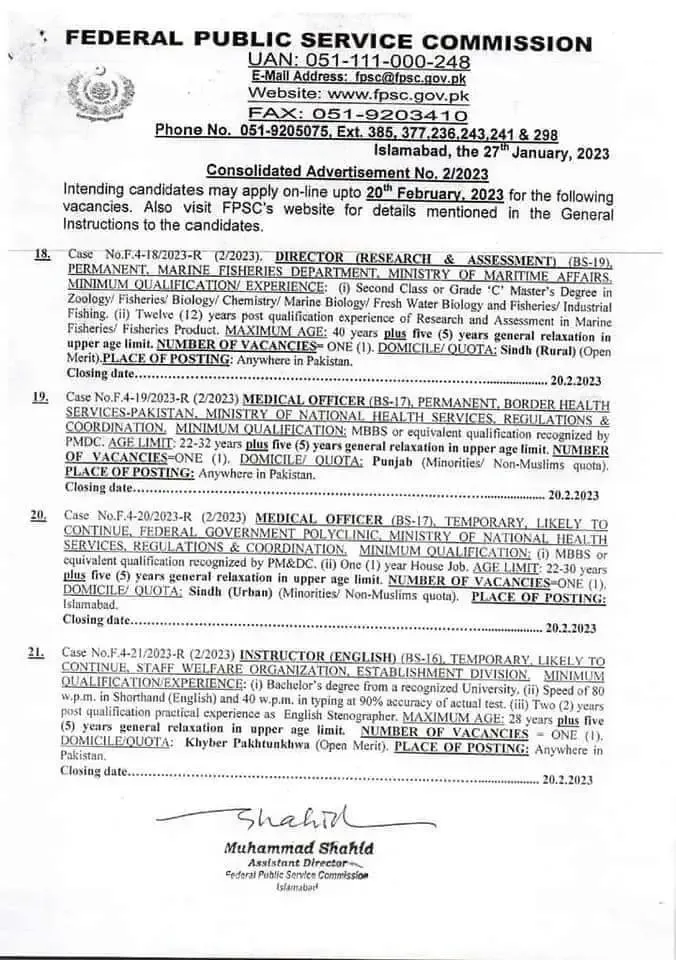 What is the qualification for FPSC?
Every candidate must have obtained at least a second division or grade "C" in their bachelor's degree from any HEC-recognized Pakistani university. An equivalent degree from a foreign university, recognized by the HEC, will also be accepted, provided you apply for equivalence.
What does the FPSC stand for?
FPSC stands for Federal Public Services Commission (Pakistan)
What is the age of CSS FPSC?
Age relaxation Criteria: The age limit for the CSS exam is 21 to 30 years.
Keywords:
Fpsc jobs in pakistan 2023 last date,
Fpsc jobs in pakistan 2023 apply online,
fpsc jobs 2023 online apply,
fpsc jobs apply online,
fpsc jobs advertisement,
fpsc lecturer jobs 2023,
fpsc lecturer jobs 2023 online apply,
fpsc advertisement,